Normally I'm against labeling music. Well, to a degree, at least. I think that labels are necessary on a rudimentary level. I love punk rock. It has to have a name, otherwise I'd have to say "I love the music where the guys with the spikes go 'arghhh' with the bopping and booping." And that would make me sound like Bill Cosby. No good!
My problem is with the micro-managing of genres. It is rampant in the age of the internet. I started reading about some kind of music called "
dream pop
", which lead me to an article on Wikipedia about "
shoegaze
", which then lead me to "
space rock
". If you let yourself get sucked in, you'll follow a never-ending rabbit hole of ridiculous names for music. "
Cybergrind
", "
powerviolence
", "
twee pop
" and "donk" (otherwise known as "
bouncy house
"). These are all real genres and it seems to be super hip to come up with the most confusing variations. If someone were to dangle me over the Grand Canyon and say "Explain the difference between '
thrashcore
', '
crossover thrash
' and '
bandana thrash
' or you're dead" then I guess I'm going out Wile E. Coyote style. "One's the thrashiest? Noooooooooooooooooooo!" *SPLAT*
Which leads me to the dumbest and most inaccurate genre label of them all: "Hair metal." Warrant, Poison, Bon Jovi. These bands are not heavy metal. What's metal about poofy hair and blush? Metal is supposed to be scary and it's supposed to be gross. You're supposed to wonder if they're satanic, not if they're your baby sitter. No sir, hair bands don't get to be called metal anymore. From now on, they will be called "emo". Think about it, it's really what they've been all along. It's the exact same people, just 25 years removed. They both wear make-up, have horrible hair and sing schmaltzy high-school grade lyrics. What's the difference? One shopped at Claire's and one at Hot Topic.
1986 - Poison
Today - Davey Havok from AFI


I feel like there still might be some resistance to my "hair bands are not metal" statement. So allow me to hammer home the point in pictures:
This is a metal band:
This is your sister:
Unknown band
These people will eat your liver:
Celtic Frost - www.celticfrost.com
This man will teach you Tae Bo:
Unknown band
This is a human skull:
Satyricon - www.satyricon.no
This is a fire extinguisher: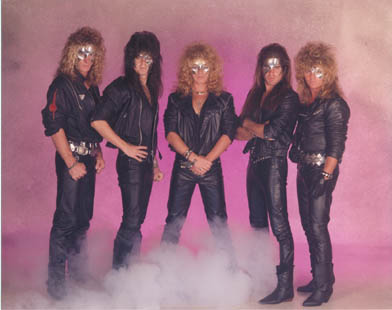 Unknown band
Here's the final say in whether or not a band is metal: Would you take them to fight an orc? Black Sabbath? Yes. Iron Maiden? Yes. Motorhead? Lemmy actually
is
an orc, so absolutely. Motley Crue would hide and feather their hair. Cinderella would suffocate on their own spandex.
Stryper
might convince the orc they're bees for a second and then he'd eat them. So stop calling yourself "metal", hair bands. Metal bands are Lord of the Rings. You're Legally Blonde.